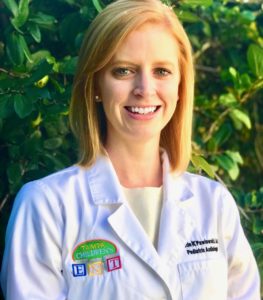 Dr. Pawlowski earned her Bachelor of Arts degree in Communication Sciences and Disorders from the University of Florida and a Doctorate in Audiology degree also from the University of Florida. Her fourth year audiology externship was completed at the University of Florida medical center, Shands Hospital, in Gainesville, Florida. During her externship her involvement and clinical training in the cochlear implant program deepened her passion for pediatric audiology, and more specifically cochlear implant technology. Her clinical experiences have provided her knowledge in all aspects of audiology including hearing evaluations, hearing aid services, and implantable devices.
Dr. Pawlowski is a member of the American Academy of Audiology (AAA) and the American cochlear Implant Alliance (ACIA).
In her free time, she enjoys spending time with her family and two dogs. She loves being able to work with the children and families in her hometown Tampa!