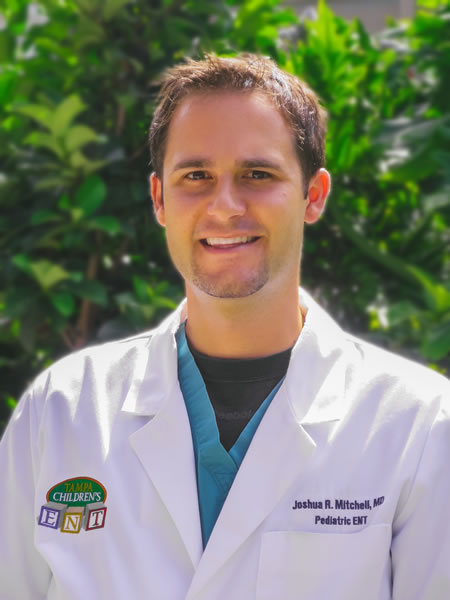 Dr. Mitchell provides care in all areas of pediatric otolaryngology, with special interests in childhood hearing loss including cochlear implantation, head and neck tumors, airway management/reconstruction, and cleft lip and palate. He graduated from Trinity Christian College with Highest Honors and as a member of the Honors Program. Originally from Indiana, Dr. Mitchell went on to study medicine at Indiana University School of Medicine where he was granted various scholarships for academic performance and elected to the prestigious Alpha Omega Alpha Medical Honor Society.
Dr. Mitchell is board-certified and completed his Otolaryngology-Head and Neck Surgical residency at Vanderbilt University Medical Center where he won various grants/awards for his airway and voice surgery research. After residency, he elected to pursue further subspecialization with fellowship training in Pediatric Otolaryngology at Children's Minnesota /University of Minnesota. Dr. Mitchell is a member of both the American Academy of Otolaryngology – Head and Neck Surgery and American Society of Pediatric Otolaryngology. He also serves as board member on Hillsborough County Pediatric Society. He settled in Tampa to take care of children with communicative and head/neck disorders. When not working, Dr. Mitchell enjoys spending time with his wife, three young children, and dog. He has gone on several international medical humanitarian mission trips. He enjoys golfing, SCUBA diving, hockey, and living an active lifestyle by both playing and watching most other athletics.
Get to know our team!