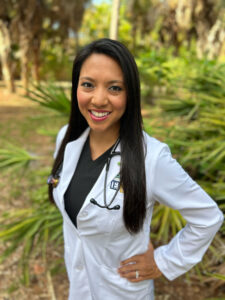 Geraldine Ortiz joined our practice in 2023. She was originally born on an Air Force Base in the Philippines and spent time in Ohio, Fort Walton Beach, Hawaii, and Tampa. Her family was stationed at MacDill Air Force Base when she was in middle school, and she has called Tampa home ever since.
In 2012, she graduated with a Bachelor of Science in Biomedical Sciences from the University of South Florida. In 2022, she received her Master's degree in Pediatric Primary Care at the University of South Florida (Magna Cum Laude).
Gel started her career as a Registered Nurse at St. Joseph's Children's Hospital on the Pediatric Hematology/Oncology unit and has developed a love for helping children and their families during some of the most challenging times in one's life. She is board certified since 2023 as a Pediatric Nurse Practitioner by the Pediatric Nursing Certification Board.
Outside of taking care of the kiddos, Gel enjoys spending time at the beach, biking, and traveling around the world to experience different cultures and new cuisines.